It's all about the Magic!
Established in 2011, the goal of the club is to bring together Villagers who LOVE Disney and want to share their enthusiasm for the MAGIC of Disney with others. We meet to share tips & ideas, as well as have guest speakers from Disney to share even more Disney knowledge, but also...just to have FUN!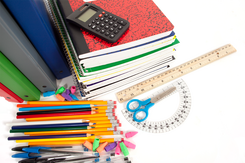 July Meeting (July 27)
School Supplies Drive & Christmas in July
We'll be collecting supplies for Stanton-Weirsdale Elementary School in our annual drive.

Bring supplies and receive a free raffle ticket.
Suggestions: Pencils, pens, crayons, glue sticks, lined composition notebooks, paper tablets, lined notebook paper, kleenex, sanitizer, rulers, scissors, highlighters, etc.
Please put crayons and markers in a separate bag to help our collectors.

Also, it's Christmas in July, so in that spirit, bring more school supplies.

And, we encourage you to wear your Disney Christmas apparel.

---
Buy Tickets to the Dessert Party
You can buy tickets for the Fantasmic Dessert Party at the July club meeting. Tickets for Fanatics club members and their guests will be on sale.
See
Bus Trips page
if you want to buy bus tickets.
---
How to Join Mickey's "Fan"atics
Club membership is open to any Villager. (Well, you gotta be fanatical about Disney.) The club meets once a month and dues are $10 per person for the calendar year.
New Members:
Unfortunately, club membership is currently closed, due to the popularity of the club and the number of current members. However, you can contact Rich Harinsky, Membership Chairman,
MFMembership@gmail.com
, to be put on a waiting list.
Note: Rich is on vacation and won't be able to answer membership questions until mid Aug, 2017.Renewing Members:
Renewals for 2017 were closed as of 12/31/2016. Anyone who had not renewed at that time has been put on the waiting list.
When to Go To Disney World?
Ok, you moved to Florida and bought your WDW Annual Pass, but which are the best days to visit the Mouse?
Here's two Crowd Predictor Web Sites that may be able to help you plan when to go.

Dad's Guide to WDW Easy and simple, shows the overall expected crowd level for all of WDW; scroll to to see the estimate for each month.
Undercover Tourist More complicated, but you can see the expected crowd level for each park by month.
---


---